Class Action Against State of Michigan: Taxation of State Pensions (Okrie vs State of Michigan)
Update March 15, 2014
On the Ides of March, there is an ominous turn of events to report. As stated in my update last week, I filed in the Michigan Court of Appeals on Tuesday, March 11, a Motion to Stay the Proceedings in the Class Action Lawsuit in the Court of Claims, along with a Brief in Support, both of which I post below for those interested in such matters. In view of the constitutional importance of this case, I also filed a Motion for Immediate Consideration with the Court of Appeals. Because I believe that 2013 PA 164 (the Act) unconstitutionally transferred the Court of Claims from the Ingham Circuit Court to the Court of Appeals, it is my contention that Court of Appeals Judge Servitto, who was appointed to replace Judge Aquilina as the judge on our case, has no legal authority to act as a Court of Claims judge, and all her rulings in such a capacity are therefore legally invalid. At this point, the matter is in the hands of the Court of Appeals for a determination whether to halt the proceedings in the Court of Claims.
Perhaps because of my action in seeking a Motion to Stay with the Court of Appeals, I received a letter at my office from Court of Appeals Judge Servitto, acting as a judge of the Court of Claims, just before 5:00 p.m. on Thursday, March 13, 2014. The envelope was time-stamped March 12, 2014 and contained a letter on Court of Claims' stationary, stating that the State of Michigan filed a second motion for summary disposition on November 6, 2013, but that there was no record of an answer filed by Plaintiffs, and that Defendants had yet to respond to Plaintiffs' Second Amended Verified Class Action Complaint. Interestingly, the letter failed to mention that Plaintiffs also filed a second motion for summary disposition in this matter on November 1, 2013, and that these cross-motions were noticed for a hearing before Judge Aquilina on December 13, 2013, which was canceled and never rescheduled. (Nor was there any mention in the letter of Plaintiffs' Amended Motion for Class Certification and Brief in Support). The letter, however, informed me that Plaintiffs' Motion to file a Second Amended Verified Class Action Complaint and Defendants' Motion for Summary Disposition will be decided by Court of Appeals Judge Servitto on March 25, 2014, without a hearing or any oral argument. This is despite the fact that the parties' cross-motions for summary disposition were previously noticed for a hearing that was canceled. The letter further states that Plaintiffs' answer to Defendants' Motion for Summary Disposition must be received by Court of Appeals Judge Servitto in her office in Troy, Michigan by Tuesday, March 18, 2014.
Consequently, I immediately got to work yesterday and prepared a Brief in Opposition to the State's Motion for Summary Dispostion and sent it by priority mail for filing by Tuesday. In response, I respectfully requested that Court of Appeals Judge Servitto recognize that she lacks constitutional authority to act as a judge of the Court of Claims in this matter, attaching as an exhibit the Motion to Stay and supporting brief that I had just filed with the Court of Appeals on Tuesday. But even if Court of Appeals Judge Servitto did have authority to act as a Court of Claims judge, the abrupt nature of her letter, ignoring that Plaintiffs have a pending Motion for Summary Disposition, directing Plaintiffs to file an answer with virtually no notice and then cancelling oral argument on Defendants' Motion for Summary Disposition and Plaintiffs' Motion to Amend their Verified Class Action Complaint violates due process under the state and federal constitutions. In the event that Court of Appeals Judge Servitto proceeds forward in this matter, I asked that the State's Motion for Summary Disposition be denied, and that Plaintiffs' Motion for Summary Disposition be granted, and that Plaintiffs be allowed to amend their complaint to add two claims for breach of investment contracts regarding the purchase of service credit and the Michigan Investment Plan (MIP) and that this Court grant their Amended Motion for Class Certification. I have posted my Brief in Opposition on my website for those who want to read more about it.
From all appearances, it looks like the Class Action Lawsuit is on a fast track for dismissal by March 25, 2014 at the hands of Court of Appeals Judge Servitto acting as a judge of the Court of Claims.
Gary P. Supanich, PLLC
117 N. First Street, Suite 111
Ann Arbor, MI 48104
(734) 276-6561
(734) 661-0742 (FAX)
www.michigan-appeal-attorney.com
See all updates and background
---
Special Report on Civil Service Commission Action Concerning Retiree Health Benefits
Background — On December 18, SERA Coordinating Council Chair Bob Kopasz testified before the Michigan Civil Service Commission concerning the Employment Relations Board's Impasse Panel recommendation to put all active state employees in the New State Health Plan negotiated for state employees hired after April 1, 2010. The NSHP significantly raises co-pays, deductibles, co-insurance, and out-of-pocket maximum. Bob reminded the Commission that state retiree's average income is $19,500 per year with a $300 maximum annual increase (active employees' average income is $56,835 and a 2 percent wage increase for 10-1-14).
Bob expressed our concern that the proposed Impasse Panel recommendations, if applied to state retirees, will have a significant negative impact on the ability of retirees to afford their health care benefit.
Here is a summary of the proposed NSHP cost-sharing schedule:
| | | |
| --- | --- | --- |
| Benefit | Current | NSHP proposed |
| | | |
| Prescription Drug Copays (retail) | $10/20/40 | $10/30/60 |
| Prescription Copays (mail order) | $20/40/80 | $20/60/120 |
| Deductible | $300/600 | $400/800 |
| Emergency room co-pay if not admitted | $50 | $200 |
| Coinsurance | 0% | 10% up to out of pocket max |
| Out-of-Pocket Max | $1000/2000 | $2000/4000 |
| HMO deductible | $0 | $125/250 |
| Office visits | $15 | $20 |
| Autism benefits added to health plan | | |
| Adding Dental Plan coverage for implants | | |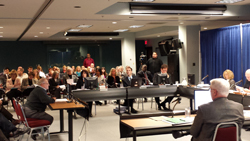 SERA CC Chair Bob Kopasz speaking to the Michigan Civil Service Commission about the proposed health care benefit cost increases, December 18, 2013.
Bob reminded the CSC that historically, non-represented state employees and state retiree health plans have tracked whatever the state employee unions have negotiated in their contracts. In the State Employees Retirement Act (Public Act 240 of 1943) Section 38. 20d, it states that insurance premiums for retirees "shall be in the same proportion of premium payable by the state of Michigan for the classified employees occupying positions in the state civil service." However, there were exceptions made for prescription drug and other co-pays in 2008 for pre-1987 retirees. Those differences in co-pays were adopted by the CSC in a Memorandum of Understanding dated August 20, 2008 — with an effective date of October 1, 2008. So there was precedent for a different set of co-pays for some retirees than active state employees and these were determined long after active state employee benefits were adopted.
At the December 18 meeting, the CSC deadlocked on approving the Impasse Panel's recommendations and tabled the matter until January 15. It urged the Office of the State Employer and the unions to negotiate some more and come to a resolution. We assumed that we would be meeting with the Office of the State Employer and Civil Service Commission Benefits staff in the coming months to exchange views on applying the NSHP to retirees.
January 15 CSC meeting — To our great surprise, we received the CSC's proposed meeting agenda on Friday, January 10 and on it was an item labeled "Interagency Agreement – MOU [Memorandum of Understanding] Retiree Health Benefit."
Bob acquired a copy of the MOU immediately and found it was already signed by Budget Director John Nixon. It proposed that state retirees be put into the NSHP with no modifications on October 1, 2014. Since Bob and his committee had not yet met with OSE or CSC staff, Bob called the Chair of the Commission Charles Wardrop, OSE Director Jan Winters, and Acting State Personnel Director Janet McClelland to request that the item be removed from the agenda since we had not yet had any joint meetings. Otherwise Bob would have to testify about past practice. There seemed to be agreement with our point of view. However, just in case, Bob prepared some testimony pointing out that the increases in the proposed MOU range from 66 percent to 400 percent!
At the Civil Service Commission meeting, Bob, Cheryl Streberger and Mary Pollock along with a standing room only crowd and media witnessed the MOU being removed from the agenda. Apparently there was a discussion in the CSC's pre-meeting meeting and our viewpoint was heard!
On the proposed contracts, the Commission heard from the parties and a representative from the Department of Treasury concerning the reported $1.2 billion dollar surplus. Commissioner Robert Swanson then moved to approve the Impasse Panel recommendations with three key amendments. First, to make the contract one year instead of two; second, to keep the health care plan at status quo (which the unions wanted); and three, to remove the .5 percent one-time lump sum proposed for 10-1-14. What seemed like a perfect solution to us failed to garner three of the four possible Commission votes. A vote was then taken on approving the Impasse Panel proposal, which passed 3-1. Commissioner Swanson explained his Yes vote by saying a No vote and deadlock would leave the unions without a contract at all. He felt it was better for the unions to have a contract even if the benefits were not what they wanted. Commissioners Barrett and Wardrop voted Yes. Commissioner Blockett voted No.
We look forward to meeting with state officials concerning retiree health benefits over the coming weeks.
Bob sends his thanks to the 50 people who submitted their out-of-pocket health care expenses to him. He intends to draw from these in upcoming meetings with OSE and CSC staff to explain how severe these proposed out-of-pocket costs will be to state retirees and particularly lower-income state retirees. Over 20,000 state retirees have pensions below $1200 per month/$14,400 per year.
On Tuesday, February 14, 2012, Michigan SERA Coordinating Council Chair Bob Kopasz signed an agreement with Voluntary Benefits Solutions (VBS) and the America's Professional Services Association (APSA) to coordinate membership recruitment for SERA on a statewide basis. APSA will contact state employee retirees to offer them a one year free membership in SERA, which will now bring with it not only current SERA chapter programs such as meetings and newsletters, but numerous additional SERA Plus benefits provided through APSA. These include first-year free tax preparation and group discounts on services in the areas of estate planning, tax planning, home and auto insurance, financial services, mortgage services, estate transfer strategies, final settlement planning, and much more.
Recent state retiree and SERA member Cheryl Streberger will be the SERA Plus Program Manager. She will represent APSA with the Michigan SERA Coordinating Council and the 21 SERA Chapters. Some of her duties will include coordinating all SERA Plus marketing activities with all chapters, acting as a liaison between APSA leadership and SERA leadership, and handling any questions from local chapters and members of SERA. She will also make presentations about joining SERA at the Civil Service Pre-Retirement Orientation sessions. Learn more about Cheryl on the SERA Plus contact page.
APSA is a non-profit, non-partisan organization providing access to great discounts on services in many areas of retirement living.