Class Action Against State of Michigan: Taxation of State Pensions (Okrie vs State of Michigan)
Update May 7, 2014
While the Petition case challenging the constitutionality of the transfer of the Court of Claims to the Court of Appeals was pending in the Court of Appeals, the State of Michigan filed an Answer on March 24, 2014 in opposition to my Motion to Stay the proceedings before Court of Appeals Judge Servitto acting as a judge of the Court of Claims until the constitutional challenge is resolved. Then, on April 1, 2014, the Court of Appeals submitted my motion for oral argument in the Petition case to a special motion docket for a determination of whether to allow argument on the constitutional challenge. In an order issued on April 17, 2014, the Court of Appeals granted my motion for oral argument, scheduling it for 9 am. on July 8, 2014 in the Court of Appeals' courtroom on the 14th Floor of the Cadillac Place in Detroit. The order specified that each side would be allowed one-half hour to address the Court of Appeals in a special session. In addition, the Court of Appeals invited interested groups to file amicus briefs.
Today I filed with the Court of Claims a Motion for Reconsideration from the Opinion and Order dated April 21, 2014, granting the State's Motion for Summary Disposition as to the claims asserted in my First Amended Complaint and denying my Motion for Summary Disposition, as well as my Motion to File a Second Amended Complaint to add claims for breach of the member investment plan contract (MIP) and breach of the contract to purchase service credit time, and my Motion for Class Certification. As a result, the case was dismissed in its entirety.  Under the court rules, Court of Appeals Judge Servitto, acting as a Court of Claims judge in this matter, has the authority to consider the Motion for Reconsideration on the merits, or summarily deny it upon arrival. In any event, a denial would trigger the 21-day period for Plaintiffs to appeal as of right to the Court of Appeals.
As I expressed in the Motion for Reconsideration, Judge Servitto has an obligation to rule on whether she has the jurisdictional authority to rule on this case. Because I believe that 2013 PA 164 transferring the Court of Claims to the Court of Appeals is unconstitutional under the separation of powers doctrine under the Michigan Constitution and violates the Due Process Clauses of the state and federal constitutions, I again argued that Judge Servitto should either rule on the constitutional question or hold the Motion for Reconsideration in abeyance pending the determination of the Court of Appeals regarding the constitutionality of 2013 PA 164. In the Motion for Reconsideration, I also claimed that denying Plaintiffs a hearing on the cross-motions for summary disposition, our Motion to File a Second Amended Complaint and our Amended Motion for Class Certification violates Due Process by denying us an opportunity to be heard. This is particularly important since Judge Servitto summarily dispatched our motion to add claims for breaches of the MIP contract and purchase of service credit contract as "futile "even though we were given no opportunity to brief or argue the merits of these claims. Given the developments leading to the dismissal of this case, it is evident that the State believes that it can take retired state and public school employees for fools. While I have resisted the easy temptation from the start to allege fraud against the State, there is no other conclusion to draw at this juncture. Thus, I have asked Judge Servitto to allow us to amend our Complaint to add fraud in the inducement and gross negligent misrepresentation against the State of Michigan.
At this point, I have crystallized the primary arguments that will be presented to the Michigan appellate courts, and, if necessary and possible, the United States Supreme Court. In particular, it has become increasingly clear that this case is headed to the United States Supreme Court unless the state appellate courts correct what the retired state and public school employees rightly consider to be monumentally unfair. In pertinent part, the State should not be allowed to do what the United States Supreme Court held that the United States government was not allowed to do in United States v Winstar Corp, 518 US 839 (1996). In that case, the Supreme Court held that the U.S. government was liable for damages when a subsequent, targeted change in the tax law was made that deprived solvent S&Ls of favorable tax treatment that the U.S. government specifically used as an inducement to get them to take over insolvent S&Ls in the aftermath of the S&L debacle of the 1980s. At stake was billions of dollars in damages. Here as well, the State subsequently changed the tax law after it had induced state and public school employees to believe for decades that their pensions (representing deferred compensation) were exempt from state and local taxation. At stake is hundreds of millions of dollars. But whether the taxation of retired state and public school employees' pensions amounts to a breach of contract or not, it is clear as day that it represents a "Takings "of financial benefits that they earned for the performance of governmental services for many years. Under the reasoning of Winstar, this is unlawful.
As always, I would like to make an appeal for financial contributions, in any denomination, to enable me to continue with these cases in our appellate courts, and, if necessary and possible, the United States Supreme Court.  My thanks in advance for any help that you can provide.
Gary P. Supanich, PLLC
117 N. First Street, Suite 111
Ann Arbor, MI 48104
(734) 276-6561
(734) 661-0742 (FAX)
www.michigan-appeal-attorney.com
See all updates and background
---
Special Report on Civil Service Commission Action Concerning Retiree Health Benefits
Background — On December 18, SERA Coordinating Council Chair Bob Kopasz testified before the Michigan Civil Service Commission concerning the Employment Relations Board's Impasse Panel recommendation to put all active state employees in the New State Health Plan negotiated for state employees hired after April 1, 2010. The NSHP significantly raises co-pays, deductibles, co-insurance, and out-of-pocket maximum. Bob reminded the Commission that state retiree's average income is $19,500 per year with a $300 maximum annual increase (active employees' average income is $56,835 and a 2 percent wage increase for 10-1-14).
Bob expressed our concern that the proposed Impasse Panel recommendations, if applied to state retirees, will have a significant negative impact on the ability of retirees to afford their health care benefit.
Here is a summary of the proposed NSHP cost-sharing schedule:
| | | |
| --- | --- | --- |
| Benefit | Current | NSHP proposed |
| | | |
| Prescription Drug Copays (retail) | $10/20/40 | $10/30/60 |
| Prescription Copays (mail order) | $20/40/80 | $20/60/120 |
| Deductible | $300/600 | $400/800 |
| Emergency room co-pay if not admitted | $50 | $200 |
| Coinsurance | 0% | 10% up to out of pocket max |
| Out-of-Pocket Max | $1000/2000 | $2000/4000 |
| HMO deductible | $0 | $125/250 |
| Office visits | $15 | $20 |
| Autism benefits added to health plan | | |
| Adding Dental Plan coverage for implants | | |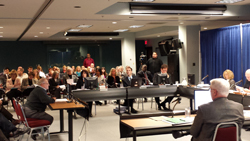 SERA CC Chair Bob Kopasz speaking to the Michigan Civil Service Commission about the proposed health care benefit cost increases, December 18, 2013.
Bob reminded the CSC that historically, non-represented state employees and state retiree health plans have tracked whatever the state employee unions have negotiated in their contracts. In the State Employees Retirement Act (Public Act 240 of 1943) Section 38. 20d, it states that insurance premiums for retirees "shall be in the same proportion of premium payable by the state of Michigan for the classified employees occupying positions in the state civil service." However, there were exceptions made for prescription drug and other co-pays in 2008 for pre-1987 retirees. Those differences in co-pays were adopted by the CSC in a Memorandum of Understanding dated August 20, 2008 — with an effective date of October 1, 2008. So there was precedent for a different set of co-pays for some retirees than active state employees and these were determined long after active state employee benefits were adopted.
At the December 18 meeting, the CSC deadlocked on approving the Impasse Panel's recommendations and tabled the matter until January 15. It urged the Office of the State Employer and the unions to negotiate some more and come to a resolution. We assumed that we would be meeting with the Office of the State Employer and Civil Service Commission Benefits staff in the coming months to exchange views on applying the NSHP to retirees.
January 15 CSC meeting — To our great surprise, we received the CSC's proposed meeting agenda on Friday, January 10 and on it was an item labeled "Interagency Agreement – MOU [Memorandum of Understanding] Retiree Health Benefit."
Bob acquired a copy of the MOU immediately and found it was already signed by Budget Director John Nixon. It proposed that state retirees be put into the NSHP with no modifications on October 1, 2014. Since Bob and his committee had not yet met with OSE or CSC staff, Bob called the Chair of the Commission Charles Wardrop, OSE Director Jan Winters, and Acting State Personnel Director Janet McClelland to request that the item be removed from the agenda since we had not yet had any joint meetings. Otherwise Bob would have to testify about past practice. There seemed to be agreement with our point of view. However, just in case, Bob prepared some testimony pointing out that the increases in the proposed MOU range from 66 percent to 400 percent!
At the Civil Service Commission meeting, Bob, Cheryl Streberger and Mary Pollock along with a standing room only crowd and media witnessed the MOU being removed from the agenda. Apparently there was a discussion in the CSC's pre-meeting meeting and our viewpoint was heard!
On the proposed contracts, the Commission heard from the parties and a representative from the Department of Treasury concerning the reported $1.2 billion dollar surplus. Commissioner Robert Swanson then moved to approve the Impasse Panel recommendations with three key amendments. First, to make the contract one year instead of two; second, to keep the health care plan at status quo (which the unions wanted); and three, to remove the .5 percent one-time lump sum proposed for 10-1-14. What seemed like a perfect solution to us failed to garner three of the four possible Commission votes. A vote was then taken on approving the Impasse Panel proposal, which passed 3-1. Commissioner Swanson explained his Yes vote by saying a No vote and deadlock would leave the unions without a contract at all. He felt it was better for the unions to have a contract even if the benefits were not what they wanted. Commissioners Barrett and Wardrop voted Yes. Commissioner Blockett voted No.
We look forward to meeting with state officials concerning retiree health benefits over the coming weeks.
Bob sends his thanks to the 50 people who submitted their out-of-pocket health care expenses to him. He intends to draw from these in upcoming meetings with OSE and CSC staff to explain how severe these proposed out-of-pocket costs will be to state retirees and particularly lower-income state retirees. Over 20,000 state retirees have pensions below $1200 per month/$14,400 per year.
On Tuesday, February 14, 2012, Michigan SERA Coordinating Council Chair Bob Kopasz signed an agreement with Voluntary Benefits Solutions (VBS) and the America's Professional Services Association (APSA) to coordinate membership recruitment for SERA on a statewide basis. APSA will contact state employee retirees to offer them a one year free membership in SERA, which will now bring with it not only current SERA chapter programs such as meetings and newsletters, but numerous additional SERA Plus benefits provided through APSA. These include first-year free tax preparation and group discounts on services in the areas of estate planning, tax planning, home and auto insurance, financial services, mortgage services, estate transfer strategies, final settlement planning, and much more.
Recent state retiree and SERA member Cheryl Streberger will be the SERA Plus Program Manager. She will represent APSA with the Michigan SERA Coordinating Council and the 21 SERA Chapters. Some of her duties will include coordinating all SERA Plus marketing activities with all chapters, acting as a liaison between APSA leadership and SERA leadership, and handling any questions from local chapters and members of SERA. She will also make presentations about joining SERA at the Civil Service Pre-Retirement Orientation sessions. Learn more about Cheryl on the SERA Plus contact page.
APSA is a non-profit, non-partisan organization providing access to great discounts on services in many areas of retirement living.