Class Action Against State of Michigan: Taxation of State Pensions (Okrie vs State of Michigan)
Update 11/18/13
As I stated last week, I've made some changes to my website, specifically relating to the layout of the LATEST UPDATE section on Okrie et al v State of Michigan et al., the verified class action law suit against the State of Michigan, Governor Rick Snyder, Michigan Department of Technology, Management and Budget, Office of Retirement Services, Michigan State Employees Retirement System, Michigan Public School Employees Retirement System, and Michigan Department of Treasury.  Henceforth, the LATEST UPDATE section will be treated more like a blog, providing as many updates as possible, with the most recent news placed at the front, followed by the procedural history of the law suit (if you continue reading) and the posting of my briefs and other pleadings in the case.
As already reported, Governor Snyder signed Senate Bill 652, shifting all cases against the State of Michigan in the Court of Claims to four judges on the Michigan Court of Appeals to be handpicked by the Michigan Supreme Court.   SB 652 went into effect immediately, and thus retroactively applies to all pending cases in the Court of Claims, including this one that was before Judge Aquilina.
Interestingly, just today, November 18, after filing an appeal brief in an unrelated case with the Michigan Court of Appeals at the Cadillac Place in Detroit, I found out about the following Order issued on November 14, 2013 from the "State of Michigan Court of Claims" regarding "All Matters Pending in the Court of Claims as of November 13, 2013."  The Order provides:
Michael J. Talbot, Chief Judge, acting under MCL 600.6419 (as amended by 2013 PA 164 effective November 12, 2013) orders:
Proceedings in all matters pending in the Court of Claims as of the [sic] November 12, 2013, effective date of 2013 PA 164 are STAYED for a period of 30 days from the date of the clerk's certification of this order."
The order is signed by Michael J. Talbot, Chief Judge, and "[a] true copy [was] entered and certified by Jerome W. Zimmer Jr., Clerk, on November 14. 2013.   Given this Order, it would appear that the hearing scheduled for December 13, 2013 will have to be rescheduled.
In the meantime, as I already reported, Judge Aquilina signed an Opinion and Order on November 5, 2013 denying my motion for summary disposition on the breach of contract claim based upon the doctrine of promissory estoppel but granting the State's motion for summary disposition as to this cause of action.  As I previously stated, I will be filing a Motion for Reconsideration of that Opinion and Order before November 26, 2013.  In addition, the State of Michigan filed a Motion for Summary Disposition with the Court of Claims in Ingham Circuit Court on November 6, 2013, as to the claims asserted in my amended verified complaint.  At some point, I will file a Brief in Opposition to the State's Motion for Summary Disposition.  In light of the November 14, 2014 Order issued by the Court of Claims, it appears that all subsequent filings are to be made with the Court of Appeals.
Finally, I reiterate what I said before that 2013 PA 64 needs to be challenged as it represents an unconstitutional move on the part of the Legislature, the Governor and the Attorney General, which threatens the integrity of the judicial system in this State and calls into question its fidelity to the principles of law and justice. Needless to say, I will challenge the legality of the State's action in the context of this lawsuit, as it makes a mockery of the idea of an independent judiciary.
Gary P. Supanich
Appellate Attorney
See all updates and background
Michigan SERA Pens Agreement with VBS and APSA for SERA Membership Recruitment Program
On Tuesday, February 14, 2012, Michigan SERA Coordinating Council Chair Bob Kopasz signed an agreement with Voluntary Benefits Solutions (VBS) and the America's Professional Services Association (APSA) to coordinate membership recruitment for SERA on a statewide basis. APSA will contact state employee retirees to offer them a one year free membership in SERA, which will now bring with it not only current SERA chapter programs such as meetings and newsletters, but numerous additional SERA Plus benefits provided through APSA. These include first-year free tax preparation and group discounts on services in the areas of estate planning, tax planning, home and auto insurance, financial services, mortgage services, estate transfer strategies, final settlement planning, and much more.
Recent state retiree and SERA member Cheryl Streberger will be the SERA Plus Program Manager. She will represent APSA with the Michigan SERA Coordinating Council and the 21 SERA Chapters. Some of her duties will include coordinating all SERA Plus marketing activities with all chapters, acting as a liaison between APSA leadership and SERA leadership, and handling any questions from local chapters and members of SERA. She will also make presentations about joining SERA at the Civil Service Pre-Retirement Orientation sessions. Learn more about Cheryl on the SERA Plus contact page.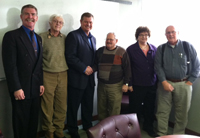 APSA is a non-profit, non-partisan organization providing access to great discounts on services in many areas of retirement living.
The toll free number for state retirees and near retirees to access SERA Plus benefits through APSA is 855-SERA-PLUS (737-2758).
---
About Michigan SERA
SERA is an non-profit organization devoted exclusively to issues and concerns of all current and future retirees of the State of Michigan.
SERA works to:
keep Michigan state employee pension and insurance benefits secure.
assure pension and insurance benefits are improved and keep up with inflation.
monitor and take action on important developments affecting state pension and retiree health care benefits.
inform its members about proposed federal and state legislation that will affect State of Michigan retirement systems and retiree health care.
stay in touch with old friends and make new friends with a common background.
monitor the State Employees Retirement Systems Board, the Investment Advisory Committee (which makes recommendations to the State Treasurer on investments in the State Employees Retirement System pension fund), and the 401K and 457 programs provided through ING.
work with the Office of Retirement Services and Civil Service Benefits Division to help retirees and near retirees with their pension and benefits issues.
provide SERA PLUS, great discounts and services in many areas of retirement living such as first-year free tax preparation, estate planning, tax planning, home and auto insurance, financial services, mortgage services, estate transfer strategies, final settlement planning, and much more through SERA's association with America's Professional Services Association.
SERA works through its members, leaders, and committees to promote the best interests of state employee retirees and future retirees. At least eight times since 1974, SERA was a moving force in pension increases or benefit improvements. In 2011, we opposed the pension tax and helped eliminate it for 70% of retirees; we opposed the remaining tax on public pensions for those born after 1945 in the Michigan Supreme Court. We opposed the recent state employee retirement system changes. That work continues.
SERA has 21 local chapters statewide that are linked through the Coordinating Council of the State Employee Retirees Associations of Michigan (the SERA Coordinating Council). SERA chapters have periodic meetings with guest speakers, opportunities for networking, newsletters, and other activities.
SERA welcomes the new ideas and energy of new members! To join, call 855-SERA-PLUS (737-2758).