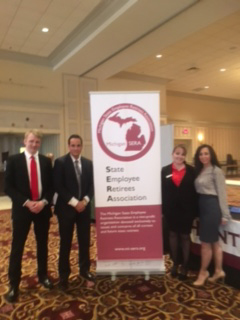 "Salute to Seniors and Veterans" was held in Shelby Township.  Hantz representatives flanking the SERA banner are: Derek Veginski, Brian Laurain, Alesha Briley and Margaret Zangara.  About a dozen membership applications were received at the event.
---
Interagency Memorandum of Understanding: Retiree Insurance Benefits
---
Class Action Against State of Michigan: Taxation of State Pensions (Okrie vs State of Michigan)
See all updates and background.
Latest Update: April 29, 2016
I provided an update about the lawsuit in December, 2015.  However, there has not been much to report I apologize that it has been a long time — almost six months -- since, as the case is still pending in the Court of Appeals.  Nevertheless, I suspect that oral argument will soon be scheduled, probably sometime in the late summer or early fall.  Naturally, I will let you know immediately once I find out so that you can make plans to attend.  A massive turnout for the oral argument will send a message that your claims must be taken seriously, and not just brushed off as a frivolous matter.
Even though I have not posted an update for some time, I have sought to publicize the importance of this lawsuit in the interim, sending letters to the presidential campaigns and newspapers before the Michigan primary election to inform them about this lawsuit.  The following is a composite version of these letters:
". . . I am also writing to bring to your attention to a governmental heist engineered by Governor Snyder that makes the takings from the "Great Train Robbery" look like spare change. It involves a $1+ billion (and counting) income transfer from the pockets of retired state and public school employees born after 1945 so that 86,000 businesses and corporations in Michigan do not have to pay any taxes at all. The heist is simple in design, yet needs to be explained:
For decades, the public pensions of retired state and public school employees in Michigan, as in a few other states, were exempt from state and local taxation. The tax exemptions promised to state and public school employees were used as economic inducements to attract and retain qualified individuals to work for the State of Michigan and its political subdivisions at lower salaries and pension benefits, and constituted an integral part of their overall retirement benefits. In effect, the tax exemptions represented deferred compensation that was earned by retired state and public school employees for their years of governmental service after vesting in one of the state's defined benefit plans, retiring and thereafter residing in Michigan and paying state taxes on their other income and assets.
That, however, changed with the entry in force of 2011 PA 38 on January 1, 2012, when the Michigan Legislature and Governor Snyder eliminated the tax exemptions as to retired state and public school employees born after 1945 (but not those born before 1946) in order to pay for a massive tax break for corporations and businesses, including 86,000 that now pay no taxes at all. Such an action perfectly illustrates how government produces income inequality in America: taking money from the pockets of ordinary people and giving it to businesses and corporations. It is a pretty simple magic legal trick that shows how governmental policy concentrates economic power in the wealthy and already powerful so that their interests are protected to the detriment of the public.
In response, I filed a class-action lawsuit in July 2013 on behalf of Mr. Thomas R. Okrie, a retired public school teacher, and similarly situated retired state and public school employees (100,000+), challenging the State of Michigan's action of taking away their deferred compensation in the form of tax exemptions without providing comparable financial benefits to them. In short, a breach of contract under state law, or an impairment of contract and "Takings" in violation of the state and federal constitutions.
The case is now pending appeal in the Michigan Court of Appeals. Okrie et al. v State of Michigan, COA No. 326607. (For information about the lawsuit, see my website, www.michigan-appeal-attorney.com under the heading "Class Action Law Suit: Okrie v State of Michigan, including the posting of my briefs and a Chronicle of the Lawsuit. For any questions about it, you can call me directly).
Notwithstanding its importance, this case has been on a media blacklist in Michigan almost from the beginning, despite my efforts and the efforts of the State Employees Retirement Association (SERA) and others to get some publicity so that the general public is at least made aware of the issues presented in the class-action lawsuit. In effect, 100,000+ people in Michigan with real grievances have been given the silent treatment, falling into a media black hole in the same way as Flint residents were brushed off in 2014 and 2015 when they complained about lead-poisoned water. For that reason,
I respectfully ask you and your representatives in Michigan to do whatever you can to bring public attention to this class-action lawsuit when you are in Michigan. It is another Exhibit A of Income Inequality in America. My thanks in advance for whatever help that you can give us.
As always, I would like to thank everyone for their support of this cause and your financial help in sustaining the effort on appeal in the Michigan appellate courts, and if necessary, the U.S. Supreme Court.  It needs to be reiterated that financial support is necessary to enable me to spend the time and effort to counter the State's "false narrative" that distorts our actual claims and arguments and to make the public in Michigan and elsewhere aware that, at the bottom line, this case represents an illegal income transfer of more than $1 billion (and counting) from retired middle income people to corporations and businesses. As always, donations in any amount are greatly appreciated and needed, especially given the magnitude of this case and forces arrayed against us. My thanks in advance.
Gary P. Supanich
117 North First Street, Suite 111
Ann Arbor, MI 48104
800-419-7310
---
SERA Plus Changes
SERA is committed to providing exceptional value to its members by delivering quality financial products and services to our members through our SERA Plus program. Consistent with our philosophy, we are pleased to announce that financial planning, investment, insurance (including auto, home and liability), tax planning, estate planning advice, and banking services will soon be offered exclusively through our new relationship with Hantz Group, Inc., and its affiliates (together, "Hantz"), headquartered at 26200 American Drive, Southfield, Michigan 48034.
| | |
| --- | --- |
| | |
Our decision to offer financial planning, investment, insurance, tax planning, estate planning advice, and banking services through Hantz allows us to provide you with a variety of financial services under one roof. Hantz Group, along with its affiliates, Hantz Tax & Business, LLC, Hantz Agency LLC and Hantz Bank, to name a few, provides a comprehensive approach to your specific financial service and banking needs. Hantz will offer and provide its services through its 21 locations conveniently located near most of our chapters throughout Michigan.
For more information on Hantz, including locations, please visit www.hantzgroup.com or contact our SERA Plus program administrator, Cheryl Streberger at 517-515-9815, or your SERA Chapter Liason.
---
About Michigan SERA
SERA is an non-profit organization devoted exclusively to issues and concerns of all current and future retirees of the State of Michigan.
SERA works to:
keep Michigan state employee pension and insurance benefits secure.
assure pension and insurance benefits are improved and keep up with inflation.
monitor and take action on important developments affecting state pension and retiree health care benefits.
inform its members about proposed federal and state legislation that will affect State of Michigan retirement systems and retiree health care.
stay in touch with old friends and make new friends with a common background.
monitor the State Employees Retirement Systems Board, the Investment Advisory Committee (which makes recommendations to the State Treasurer on investments in the State Employees Retirement System pension fund), and the 401K and 457 programs provided through Voya.
work with the Office of Retirement Services and Civil Service Benefits Division to help retirees and near retirees with their pension and benefits issues.
provide SERA PLUS, great discounts and services in many areas of retirement living such as first-year free tax preparation, estate planning, tax planning, home and auto insurance, financial services, mortgage services, estate transfer strategies, final settlement planning, and much more through SERA's association with Hantz Group, Inc..
SERA works through its members, leaders, and committees to promote the best interests of state employee retirees and future retirees. At least eight times since 1974, SERA was a moving force in pension increases or benefit improvements. In 2011, we opposed the pension tax and helped eliminate it for 70% of retirees; we opposed the remaining tax on public pensions for those born after 1945 in the Michigan Supreme Court. We opposed the recent state employee retirement system changes. That work continues.
SERA has 21 local chapters statewide that are linked through the Coordinating Council of the State Employee Retirees Associations of Michigan (the SERA Coordinating Council). SERA chapters have periodic meetings with guest speakers, opportunities for networking, newsletters, and other activities.
SERA welcomes the new ideas and energy of new members! To join, contact Cheryl Streberger at 517-515-9815 or cstreberger@yahoo.com.